The art of Photography is a major part of my family's heritage, and each member of the family that has taken it up has forged their own style.
I am an observer of people, and that is a major part of my style. I look for authentic warm moments, and I strive to capture those moments in a Photograph.
I share a Studio with Powell Photography Inc. In Chicago's South Loop: 531 S. Plymouth Ct. Chicago IL 60605
I am a graduate of Milwaukee Institute of art and Design with a BFA in Photography.
If you would like more info Send me a message using the adjacent form. I Look forward to hearing from you!
-Elliot Powell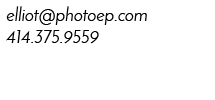 Example Pricing
The pricing below are some basic examples. Contact me to create a quote for the Services and Products that suit your needs.
Weddings
Base package includes a disk with print/web ready JPEGS of your wedding and a 13"X13" Hard-Cover Custom Memory book.
Events
Get beautiful photos of your birthday party, fundraiser, retreat etcetera.
Pricing includes web ready JPEGS
Half Day Wedding (3-5 hours):
$1375
Full Day Wedding (6-9 hours):
$2125
Hourly Rate:
$300 2 hour Minimum,
$125 each add'l Hour
Full Day Event(8 hours):
$1000
Portrait
Corporate Portraits, Modeling or Acting Headshot.
Package includes a session with two looks/outfits.
Up to 4 Selections Digitally Delivered
$400